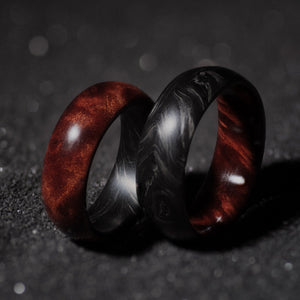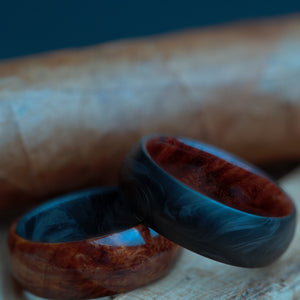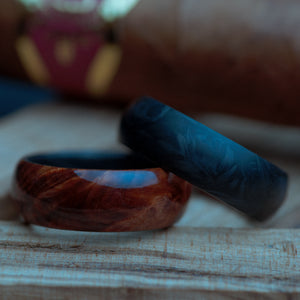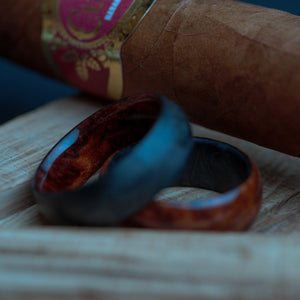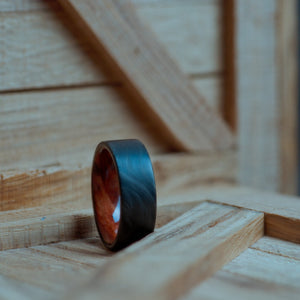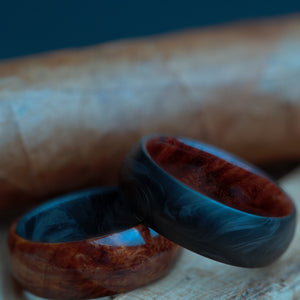 California Redwood Burl and Forged Carbon Fiber Mens Wedding Band
Redwood is a beautiful and unique wood that is found in the Pacific Northwest, in Oregon and California. It comes from the giant sequoias, which are the tallest trees on earth, and we use the burl of it to get interesting patterns and textures. We pair the redwood burl with a marbled forged carbon material that we make in our own shop. Together the two create a handsome two toned ring that is always truly unique and one of a kind.

*IF YOU HAVE A WEDDING, PROPOSAL, OR OTHER EVENT DATE SET PLEASE INCLUDE IT IN YOUR ORDER NOTES*

*Please get professionally sized for a wide banded (7-8mm) comfort fit ring, this can be done for free by any jeweler. If you can't get to a jeweler we recommend the zip tie style ring sizers found online. We strongly recommend against sizing with paper or string. If you need a different size we will happily craft you a new ring and do a size exchange.*

As these rings are handcrafted, every ring varies slightly in appearance. We craft them with a width of about 6mm for a size 4-6, 7mm for 7-10 and 8mm for a size 11 and up. Send us a message if you need an in-between size, a specific ring width, or would like to special order wood on the exterior of your ring.

Our rings are perfect as a gift for any occasion. Engagement, wedding, anniversary, birthday, Valentines Day, Christmas, or maybe just something for yourself.

Specifications:
-Outer layer of forged carbon fiber, polished to perfection
-Inner layer of redwood burl, stabilized and waterproofed
-Handmade item, made to order, appearance may vary
-Limited warranty

All of the items in our shop are handcrafted with care, precision, and love. We make our own forged carbon fiber, treat our own wood, and cut no corners to save on cost over quality. Customer service is a priority for us, so please contact us with your questions or concerns and we will reply as soon as we can. Thank you for reading, and we look forward to hearing from you!